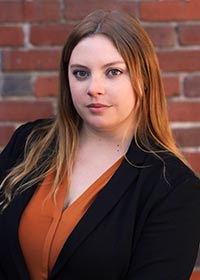 Stephanie joined the firm in 2021 after graduating from Lewis & Clark Law School as a member of the Cornelius Honor Society. She has previously clerked for Liberty Mutual Insurance, American Forest Resource Council, and the Army Corps of Engineers.
As a student, Stephanie participated in the Western Resources Legal Center, co-founded the student group Natural Resources Law Association, and attended multiple conferences as a member of the Rocky Mountain Mineral League Foundation. She served as a teaching assistant for the legal writing department and contributed as an editor on the newest edition of the textbook for that program. As a member of the Student Bar Association, she participated in the Budget, Curriculum, and Faculty Committees, drawing on her previous work experience in higher education to represent students in the administration of the law school. In addition, she worked as the Host Coordinator for the Regional Client Counseling Moot Court Competition in 2020.
Stephanie's practice mainly focuses on probates, business transactions, and civil litigation. She enjoys camping, concerts, and good food in her free time.